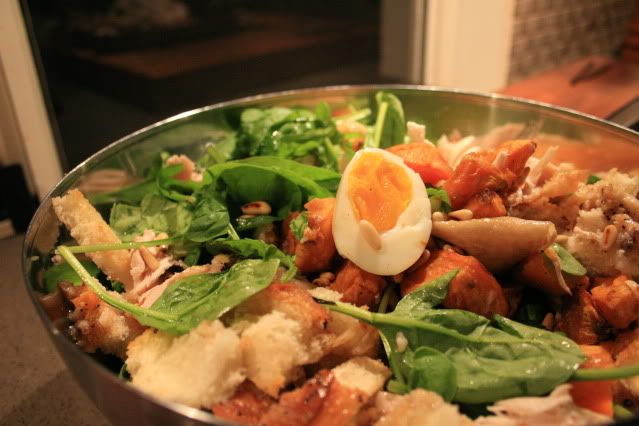 "Salad is rabbit food", Salad doesn't fill me up", "Do we
have
to have salad again?", "I
need
meat for dinner", "Salad is girls food".
Sigh
. Fear not salad warriors, here's one that will suffice as a cruisy main meal and leave the menfolk feeling free to dig in for seconds worrying not for their reputations as carnivorous beer scullers. The kidlets are even bound to like something about this salad. It's chunky, it's crunchy, it's warm, it's overloaded with flavour, it's made with sage and garlic roasted organic free range chicken for crying out loud - it
has
to be good.
The best part? The 'croutons'. These aren't your average dried out fried bread cubes. Torn up crusty bread is added to the chicken roasting tray about 5 minutes before the chicken comes out. The bottom bits soak up the cooking juices, while the tops turn a crispy hue of gold. Gold!
Man Salad
1 whole, free range, organic chicken
4 sage leaves
2 garlic cloves, crush
50g butter
extra butter or duck fat to baste
Half a cob loaf (or any crusty bread), torn up roughly
700g sweet potato, peeled, roughly chopped
80g pine nuts, lightly toasted
200g baby spinach leaves
200g cheese (feta/cheddar/whatever you want), cubed or crumbled
5 free range eggs, hardboiled, halved
Pat chicken dry inside and out. Push your finger under the skin of the breast from the cavity end making a pocket each side of the breastbone. Stuff in the sage leaves and the butter and crushed garlic. Rub chicken over with butter or fat and season with salt and pepper. Cook in a hot oven (about 190-200c) until juices from the thigh area run clear when pricked.
Roast the sweet potato at the same time with a little butter and salt and pepper. Just before taking chicken out add the torn up bread to the roasting pan to crisp and colour up. Set aside to cool slightly before tearing up chicken into big masculine chunks. Add all the ingredients in together and toss together.
Dressings: Either a homemade (or bought will do in a pinch) whole egg mayo manned up with some wholegrain mustard, anchovies, lemon juice etc or a zingy dressing: one part acid like lemon juice/balsamic vinegar/white wine vinegar etc to two parts oil, seasoned with salt and pepper, honey, dijon mustard or whatever.
Plonk that down on the table at your next BBQ and see what happens. Good luck warriors!